These are some of my drawings, sketches, digital art and student work.

This a student rendering on the theme of motherhood. That's me on the left and in the background I'm holding my first son. On the right is Jackie Kennedy with one of her children.
"Minor Reflections" is an installation piece I did while a student at Cypress College. It's about 10 feet tall and 8 feet wide. I bought a large mirror and broke the pieces which I taped to fishing line and suspended from above. I painted the walls and floor white and installed a fan above in the ceiling. The fan blew made the mirrors move slightly, casting reflections of light onto the white walls.
This was created by digitally altering a photo I took of some trees. I sure like these shades of green.

This was created by digitally altering an image of one of my paintings, "Mars Sunset."

This is a digital painting of mine. I like the sense of freedom and the way the white image in the center looks like a bird. I would like to do a large painting based on this.






January 27, 2008

I bought some new canvasses the other day, thank you to my niece Jenn for the Aaron Brothers gift certificate!

I don't know why but lately I don't want to paint. I get so many mental images of what I could do, and I see inspiration all around me in colors and shapes but when it comes to sitting down to do the work, I think ... ahhhh.. I don't know if I REALLY want to do it. I think working full time really takes it out of me and on the weekend there is housework, shopping, bills to pay, family, responsiblities and then I'm just tuckered out.

I do like to create digital artwork, it's fast and interesting to see what happens when experimenting with colors and filters.

I just worked on updating my Web site for the last couple of hours, hoping for inspiration. I like to work on the site, but I have zero training on Web design (and yes, it shows, I know!.)


Dec. 12, 2007
It's been almost a year since I wrote here.
My family and I moved to a different house last summer. I like this new place a lot. We get a good view of the San Bernardino Mountains from our neighborhood. Here is a picture taken a few days ago after the first snowfall of 2007 in Big Bear.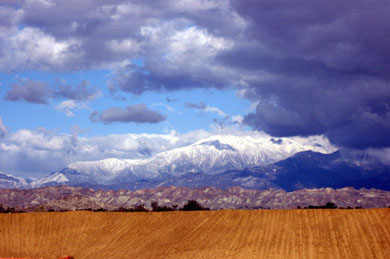 Gorgeous, isn't it?

A few months ago, I painted a few new paintings and took three of them to the Riverside Art Gallery and Museum fundraiser and to my surprise, all three paintings were sold by the end of the week!

I started two new new paintings today. A small green, yellow and blue one (in my "cascade" style) and a square painting with red in the middle and brown and gold around the edges. I will post some images of all the new paintings soon.

And thank you, Liz! She is the sweetest person, a great friend, and the new owner of three paintings, including Circle with Rectangle, and Introspection, and a student painting that I did around 1985, an oil painting of lemons.


Oct. 18, 2006
"Time-travel vortexes are always windy"
Just a thought I had while watching "The Outer Limits" the other day. Also, I think Amanda Plummer is a very good actress.


Oct. 11, 2006:
I finally started a new painting. It's about 36" by 26" and it will be similar in style to my painting called "Heavy Sun." This has more of a rolling landscape feel to it, and I'm using a wider range of colors.
Last night I saw a TV program about Pablo Picasso. An interesting fact given was that although his father's name was Ruiz, he decided to go by the name Picasso, which was his mother's maiden name, because he thought it had a better sound for an artist.
The narrator said that Picasso was the richest, most prolific and well-known artist of his time. He said Picasso refused to compromise when it came to his art. Picasso thought that no matter what an artist paints, he's expressing his own feelings, fears and emotions.
I wonder what Picasso would have done with his art today. Would he have used computer graphics as a new way to express himself? I think so.
Sept. 30, 2006:
It's so nice to have the weekend off work. My sister is coming to visit today, which will be super. My sister is the best sister in the world and she is beautiful, too.
I posted a few of my paintings on http://www.hellomorenovalley.com/Art/Index.Cfm So far I'm the only artist to post in the Moreno Valley category. I hope some other area artists will post also.
I watched an Orange Coast College program about art from 1978 last night. I was trying to guess the year it was produced by what the people were wearing, and I guessed 1976, so I was off by two years.
The interviewer was asking a California artist, who at the time was also an art professor at a California Sate University, interesting questions about paintings and painters, and I was interested to hear his answers, which I feel apply to today as well.
One question she asked him was why people might get offended when they see types of art such as abstract art, and he answered that at times when people feel unprepared for something they are unfamiliar with or don't understand, they may reject the artwork, feeling insulted. Instead of welcoming the art, they step away from it. That's something I'd wondered about, as well.
Also, they talked about art being both intellectual and sensual. And how a good balance of those two factors can make for a painting that reaches people at a deeper level. The intellectual factor could be something such as a sense of here is what this painting is about, what the artist is communicating. Example, here is a barn and farmhouse on a sunny day next to a pond. Or here is a painting about workers in factories. The sensual factor would be the use of shape and color, the relationship of the paint to the canvas, the way the paint is applied.
I see that I'm more drawn to the sensual nature of painting, and this may mean sometimes when people look at my art, while they can appreciate the colors and shapes, they might not get a sense of what it's about. Sometimes, even I have a hard time understanding what it's about, because I'm allowing my subconscious to help me paint.
That could be why my father doesn't seem to be too interested in my abstract paintings; he's a very intellectual person. I'm not so intellectual myself, but I feel a dissatisfaction with what I've been doing and a need to take my paint in a different direction. I'm frustrated because I'm not sure how to do it, but I want to be able to express my experiences and feelings in a more effective way. I want to paint subject matter that people can relate to, that touches them and helps them understand my life experiences.
Sept. 21, 2006:
I was looking at the art of one of my favorite artists online yesterday, at http://www.ebsqart.com/Artists/cmd_583_profile.htm Her art amazes me. It's deeply psychological, disturbing yet compelling. I can truly identify with her work.
I've been trying to think of a way to tell my story through art the way Ann has, (I'm assuming that she's telling her story through her art) but I have yet to come upon a method that works for me. More than anything, I paint to cheer myself up.
One day, back around 2000, I was so sad that I painted an colorful abstract on my bedroom window. When I woke in the morning, the colors would fall into the room and across my bed. I would wake up feeling so happy about the wash of colors. It was like an instant, short-term cure!
But when I paint anything reflecting a negative mood, I feel worse. I did a painting of a lonely green tree on a red background (I'll add that to my site after this) but after time I wasn't happy with it. And I don't like to look at it.
Sept. 20, 2006:
Hello to anyone who may be passing by this way on the Internet highway.
I've been thinking that I'll put a kind of journal of sorts on my Web site. It's not a proper "blog" because I don't know how to program one of those. But I can certainly just type here at the bottom of this page and reload it.
I moved a couple of months ago and I work full time as a page designer for a newspaper. It's not easy to find time to paint, because I'm also a single parent. Since we moved, I've been trying to get up the gumption to set up a studio space in the corner of my bedroom, or maybe in the garage. But it sure is hot here! So, the garage may be out until it cools down.
I'm hoping that by working on my Web site, I'll get motivated. I received a nice e-mail a couple of days ago from a man who said he liked the art on my site. Thank you! I didn't tell the writer this, but he is the first member of the public to e-mail about my Web site. And, I have had lots of encouragement from family, friends and co-workers, and it has really helped me to continue on being creative. Thank you to everyone!